Buying and Selling Real Estate During a Global Pandemic
Never thought I would write that sentence, but here we are.
life in the age of covid-19
Unprecedented times, life, and real estate. Fear, preparation, self-preservation, community, technology. And hope. We always need hope, right?
Here's hoping that all reading this are safe and hunkered down, and so are your loved ones. This is quite a different world than we have ever seen, for sure.
I have always felt that hope can be seen most strongly through the organization of action, and seeking clarity on the next right thing. Super smart people on several fronts taught me that, and it has worked for me in business and life. That is why I am writing this today.
strange times
These are odd times. Very strange, indeed, and I hope that y'all are feeling ok through it all. The uncertainty is a crusher, huh? It's difficult right now. Eerily quiet, and strangely calm, too.
For me, it has been generally fine, but as a small business owner, I am concerned about my fellow self-employed people, and all the other folks who have been rendered without income for some unknown amount of time. There are a lot!
Firstly, check on your friends, please. This self-isolation is more difficult for some than others, depending on responsibilities and general anxiety levels. No matter what you think or feel, we are requesting that you stay home if you can.
We should all really be remaining at our houses and seriously limiting social contact at this time in solidarity with our communities as much as we possibly can, please. And if you have to go out, please follow CDC guidelines on hygiene and social-distancing. We are all doing that at Blue Ridge Fine Properties to the very utmost possible at this time.
we will work it out
Our office was officially closed early last week, and we are working and meeting with each other as a brokerage remotely. We are staying connected via phone, text, and email, and our back-end Slack channel as well. There is still a lot to talk about, and we are using this extra time for professional development and organization, as well as sharing resources.
Here we are a couple of days ago sharing some ideas. Some caring and smart people in this pic. Proud of us, and I love us all. These are some real VIPs, right here, and we will all continue to be here for you.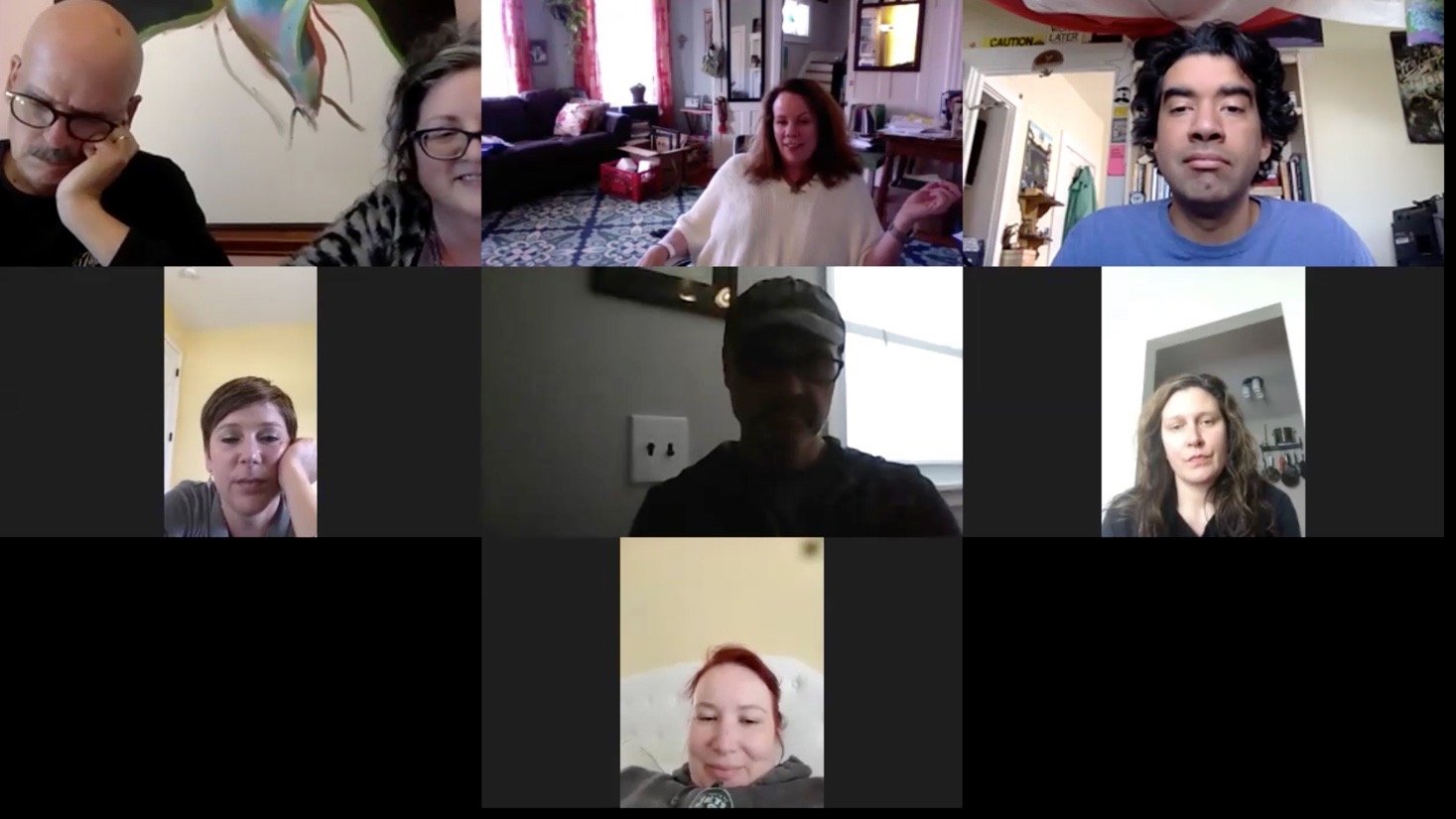 Like most of the world, our business has slowed down majorly, but not completely. Because no matter what happens, people need shelter. They need to move. They need to sell and buy, and they generally don't have a huge amount of flexibility when this is where their lives are.
So we are still here, and we are staying connected with our clients and with our colleagues, and doing our best to navigate these tricky waters of late.
we've changed how we do things
We have also changed the way we handle our business at this time. We need you to know that we are taking this pandemic seriously, and we are taking all precautions that we can. These revised processes will be applied with all clients, current and new.
These guidelines are official Brokerage policy, and I am not flexible with these guidelines for myself and the agents. We thank you for understanding.
The nature of our work dictates that we are actually inside people's homes, their safe zones. We are meeting face to face with buyers and having in-person conversations at properties that they are interested in buying from sellers who are wanting to sell. We know it is riskier than staying in, but this is our obligation as an industry.
we're here for you
For people that must buy and sell right now, we are still here for as long as we are permitted to be.
I will post below our best practices that we are implementing, and just say here: if any of my agents are not comfortable meeting clients at this time I fully support this decision. I encourage all Brokers and Owners to exercise the same understanding.
On the other hand, if agents are comfortable carefully continuing to work, I support that, too. And those of us who are continuing are enlisting all available methods to increase safety levels to the highest that we possibly can.
keeping everyone safe
We all are equipped with wipes and hand sanitizer, are doing 6+ feet distancing, being extremely diligent in the homes of Sellers, restricting how those showings are handled, and screening Purchasers before every meeting.
If they have traveled or been even slightly ill, we are postponing. If we are not feeling well, we are postponing. This is not up for debate.
On that note, all Open Houses are off the table, regardless of Agent and Seller comfort level. BRFP will not permit participation in Open Houses at this time, and we are encouraging all Brokers and managers to follow suit with this marketing adjustment. The stakes are just too high, and we appreciate your understanding.
We have contracted with Redwood and Co to have a private line of hand sanitizer made for us specifically to ensure that we stay equipped and are not at the mercy of the market there. So we will have plenty on hand for safety and to share, (as well as smelling divine!)
I'm not going to say it is the greatest time to buy or sell, but some folks still need to do it. What I am going to say is that we are doing everything we possibly can to protect the public and ourselves, so please do not be offended when we ask screening questions, don't shake hands, or request that we drive separately.
It is a very challenging situation because we do feel that we provide an essential service. Folks do need to make the moves that they had planned several weeks ago before this was a daily part of our lives.
new buying and selling protocols
That being said, in order to be shown property at this time a buyer client must meet and agree to all of the following criteria:
you must be ready to buy
Sign our customized Buyer | Broker agreement for the properties that the agent will be showing, either virtually or in person.
You must be fully qualified to make an offer on any home that we may view with cash or a letter of financing from a lender with whom we are familiar. Right now investment portfolios are unstable, and I am not encouraging agents to view stock portfolio statements as proof of funds which will be stable and reliable for a real estate transaction. Any funds which may be required to purchase in cash should be liquidated prior to viewing homes.
Be ready to make an offer now. We really cannot accommodate showings right now who are just looking and might move in the next year or so. Normally, sure. In these times, I'm sorry – no.
do your research
Have done a drive-by on that home, day and evening, and be satisfied with the location of that home, and we will ask to be sure.
Viewed any and all media, and through that understand the general scope of the property.
Complete our brief screening as far as their health, and how they are currently feeling.
Understand and comply with all of our revised protocol, including the specs outlined below.
be safe
Agree to use hand sanitizer provided by Agent | Broker prior to entering a seller's home.
Agree that only Agent | Broker is to touch any handles or switches. Doors, drawers, light switches, or any other piece of the home. The agent is the only one touching anything in the home during the showing, no exceptions. Purchaser is to ask if there is an area they would like to view that is not already opened or available, and the agent will comply.
Agree to no children at showings during this time. This was a tough one, but we had to make the call. Children are lovely and we adore them! But it can be much too challenging for some to keep their hands completely to themselves. We understand this and need to consider the safety of everyone with this fact in mind.
The use of property lavatory facilities for personal use will not be permitted.
we are serious about this
Deviation from any of these agreed-upon specs will terminate the showing immediately and Purchasers will be asked to vacate the premises. Reminders will be given at the door, but no warnings will be given once inside.
We know that this may seem super hardcore regulation to some, but we do hope that all will understand and appreciate that these measures are being enacted by our Brokerage, and required of all of our Agents, in order to comply with CDC regulations and do our part for stopping the spread of Covid-19.
stay tuned for any updates
We will also continue to monitor all of the areas required to complete a real estate transaction, and keep y'all in the loop with any changes there. Lenders, settlement companies, courthouses, inspectors, appraisers. There are a lot of people and companies involved in a real estate closing, and as there are additional developments I will be making posts to update on where we stand in our markets with actually getting transactions to settlement in this shifting time.
It takes a lot of folks to make this real estate transactions happen, and there are many moving parts. As these areas evolve, I will do my best to keep y'all informed with the most current and reliable info available to me. We are staying on top of it all actively and will be sharing real-time updates via the blog and our social channels, as well.
Nobody is sure how this will all shake out, but we will do everything we can as a local business and part of this community to stop any spread pro-actively. We want to stay safe, and we want to work to keep all of our fellows safe as well.
thank you!
Thank you to my amazing sphere of top notch Brokers across the country (and Canada!) for sharing info on what is happening in various areas, and how this situation is being handled across borders of all kinds. Because of this I had a lot to work from to create our local BRFP Covid-19 protocol. I could not be more fortunate to have you, friends. You help me be a better person, Broker, and manager. Much love. xoxox
I know this is long. Thanks so much for taking the time to read. There is a lot at stake, and we are here for you – whether it is real estate or community-related.
We will continue to mindfully help people buy and sell for as long as the government says we can, and we believe it can be done safely and responsibly. We believe that these revised protocols will serve to meet ours and our clients' needs, and protect our fellows as best we can.
Please stay safe out there, and know that we are doing our utmost to keep us all healthy and happy.
As always, if we can help with anything at all, please reach out.
– Shannon