COVID-19 – Update from the Real Estate Front Lines
Covid-19 and Real Estate Procedures
Well hello! Happy Earth Day Week, and thanks for tuning back in. We are still here, and we are hoping that you and your family and friends are staying safe and have all of the necessities (and at least most of the comforts) possible during this time.
In Virginia, we are under a Shelter in place directive until June 10, with the exception of essential work. There is a lengthy list of what is considered essential, and many of the classifications could probably be debated.
Our offices are still closed to the public right now, like so many others. But as shelter is a necessity, we are still working for you. For more information on our Virginia SIP orders, go here.
That being said, we are still exercising some pretty strict guideline requirements, the same ones that we posted when we checked in a couple weeks ago. I'll post them again at the bottom here, too. Since our number one priority is that we all stay safe and well, we are doing our best to make sure that happens. ?
shout outs
Been wanting to make a couple quick couple shout outs.
Thank you so much to Redwood & Co. for custom creating hand sanitizer for our brokerage. This is a very necessary tool these days, and in order to make sure that we have enough on hand we have had our own line designed. Redwood did a lovely job, even designing a customized label for us. Look! Beautiful, huh?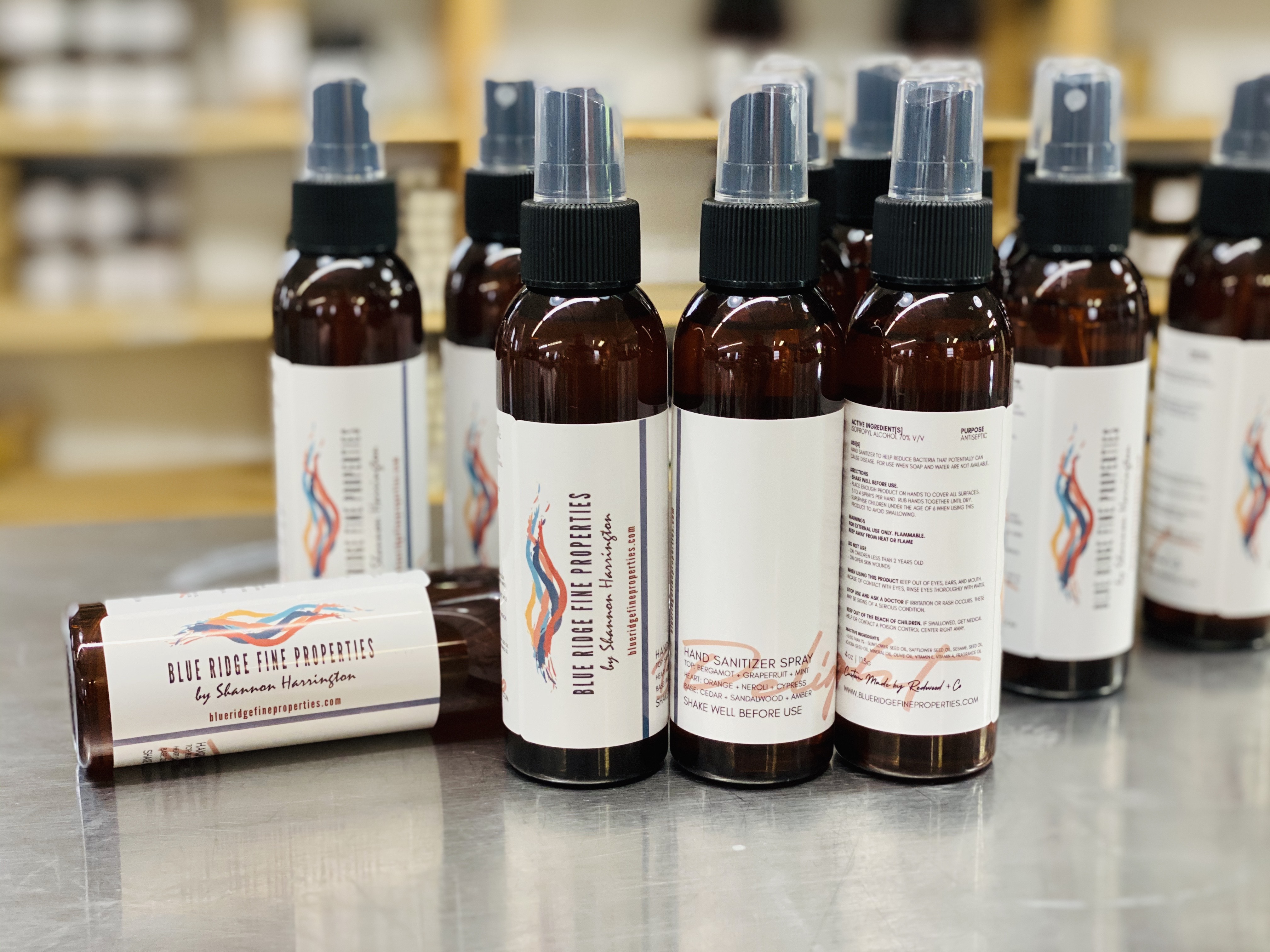 I gave a bottle to an appraiser friend the other day and she reported that she needed to know the name of the scent because her husband thought it was so sexy-smelling. Okay then! Heck yeah!
We love to hear it, and yes, it does smell divine. Be prepared and safe, and smell great doing it. That's us, apparently. Great stuff! Reach out to Redwood!
We also want to give a little local Valley love to Mary Baldwin University for providing additional shelter in partnership with the Valley Mission. We love this wonderful use of unused space since the students have gone home. Read more about that here.
is the real estate biz open?
Some have asked – we can tell you that we have continued to put a lot of deals together for our clients, despite the overall climate. We are working really hard to do it for you! It's not easy, but it is getting done – navigating carefully and deliberately.
If you need to move, you can still do it even now. And even though that is still true, it might be best to wait it out for a couple months. It's really case by case, and we are happy to talk it through with you. Let's connect!
ch-ch-ch changes
Every day, people are asking about *The Market* and what is happening. What is happening is that it is changing. A whole lot! And it is changing in ways that it will likely not return from. And we are still working hard, and changing with it.
One of those changes is our brand new custom website that will be rolled out shortly, complete with lots of information about our current times, as well as all the info that you will need to buy and sell in general. We'll let you know when that is launched – it should not be too much longer!
Boots on the ground: right now we are still working with buyers who must move in the next two months and who have their ducks in a row to snatch up their perfect property.
selling during covid-19
We are also helping Sellers prepare to market their homes in this new normal. More specifics on that in the next few days, but in the meantime, are you a homeowner who has been thinking about selling but not sure how to process what that looks like right now? I understand! Let's talk about it.
I'd love to share with you how we can assist you in a way and in a time frame that works for you. Let's go through how we are moving through the process in the safest way for you and your family, and tailor a game plan for you for whenever you are ready.
Who knows, one of us at BRFP might have a buyer we are working with right now that is a perfect match!
Feel free to call me directly at 540.294.5005, and/or via email.
new procedures for buyers
And just as a reminder, these are the specifications that we are following (and requiring compliance with) on the purchase side right now.
Be prepared to sign our customized Buyer | Broker agreement for the properties that the agent will be showing, either virtually or in person.
Be fully qualified to make an offer on any home that we may view with cash or a letter of financing from a lender with whom we are familiar. Right now investment portfolios are unstable, and I am not encouraging agents to view stock portfolio statements as proof of funds which will be stable and reliable for a real estate transaction. Any funds which may be required to purchase in cash should be liquidated prior to viewing homes.
Be ready to make an offer now. We really cannot accommodate showings right now who are just looking and might move in the next year or so. Normally, sure. In these times, I'm sorry – no.
Have done a drive-by on that home, day and evening, and be satisfied with the location of that home, and we will ask to be sure.
Viewed any and all media, and through that understand the general scope of the property.
Complete our brief screening as far as their health, and how they are currently feeling.
Understand and comply with all of our revised protocol, including the specs outlined below.
Agree to use hand sanitizer provided by Agent | Broker prior to entering a Seller's home.
Agree that only Agent | Broker is to touch any handles or switches. Doors, drawers, light switches, or any other piece of the home. The agent is the only one touching anything in the home during the showing, no exceptions. Purchaser is to ask if there is an area they would like to view that is not already opened or available, and the agent will comply.
Agree to no children at showings during this time. This was a tough one, but we had to make the call. Children are lovely and we adore them! But it can be much too challenging for some to keep their hands completely to themselves. We understand this and need to consider the safety of everyone with this fact in mind.
Agree and understand that the use of property lavatory facilities for personal use will not be permitted.
We know that this may seem like super hardcore regulation to some, but we do hope that all will understand and appreciate that these measures are being enacted by our Brokerage and required of all of our Agents, in order to comply with CDC regulations and do our part for stopping the spread of Covid-19.
Final update: as of right now, all local Courthouses are open for recordation, and sales are happening and being filed. While we were not sure how that was going to pan out a few weeks ago, we are not seeing any signs that the real estate industry will shut down completely in our market regions.
We are happy about this, and so are our Sellers and Purchasers.
We will definitely keep you in the loop as any situations change, and I mean it more than ever when I say we hope to see you soon.
Shannon