Today, a True Community Pool
The patter of wet feet striking damp pavement and the singing of splashing water will soon greet the ears of many a Gypsy Hill Park visitor this season. On May 27th, the popular hangout, cool-off, workout, and all-around recreation spot – Gypsy Hill Park Pool – will reopen its gates. A welcome reprieve from the soaring summer temperatures, Gypsy Hill Park's Olympic-sized pool boasts locker rooms,a double-slide, and a children's pool with invigorating water features. This destination attracts numerous visitors from Staunton's vibrant population, running the gamut from teenagers enjoying an afternoon swim with friends, to parents soaking up some rays while their little ones frolic under their watchful eyes. Gypsy Hill Park Pool, centrally located and brimming with activities, is unsurprisingly a must for any Staunton summer.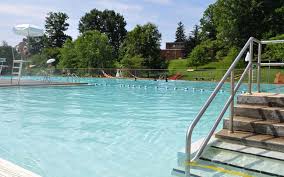 Even in photos it looks refreshing1
However, Staunton's favorite pool was not always so welcoming. Eager to earn additional money during the trying times of the Great Depression, workers began construction on Gypsy Hill Park Pool in June of 1932 and completed their project by July of that same year. "Marked by the blare of bugles, short talks by four speakers, and appropriate swimming and diving exercises," reads the Staunton News Leader from July 22nd, 1932, "the swimming pool in Gypsy Hill Park, named Gypsy Hill Pool, was formally opened yesterday afternoon at three o'clock with a crowd of more than 300 persons present."2 People of Staunton enthusiastically thronged the place that was to become a jewel in their esteemed Victorian park grounds. A new social hub had been born, but unfortunately, one not one shared by all.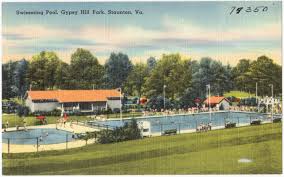 Something seems to be missing in this Staunton postcard from 1930-19453
Like many other public spaces in Staunton and Augusta County, Gypsy Hill Park -and everything within it – restricted access to African Americans, a product of Jim Crow laws and a murky history of racial discrimination. "For Colored" signs dotted Staunton, designating the supposedly "separate but equal" schools, restrooms, water fountains, seating areas, and parks accessible to those who happened to bear darker skin.4 Instead of relishing in the grand opening of Gypsy Hill Park Pool, African Americans were limited to Montgomery Hall Pool, a place that could be fairly judged as "separate and lesser" in comparison. For much of 20th century American history, in fact, pools across the country were the breeding grounds of racial tension, segregation, and oppression. According to Staunton councilman Ophie Kier, "Once a year, on Labor Day, blacks were allowed to swim at Gypsy Hill. The next day, the pool was drained so whites wouldn't swim in the same water."5

Signs similar to this were once seen in Staunton6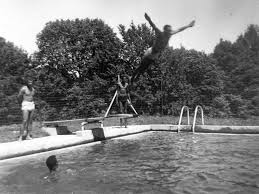 Montgomery Hall Pool remained a common haunt for Staunton's African American residents for many years7
In recent years, Staunton has worked diligently to diminish the impact of this discriminatory past on the modern era. Not only do Staunton citizens embrace minority groups with annual events such as the African American Heritage Festival, but they also have increasingly acknowledged the bleak realities of Staunton's Jim Crow period. With the earnest backing of Kier, Montgomery Hall Pool (which had fallen into disrepair and disuse with time) has been resurrected as a functional monument to African Americans in Augusta County. "The black community of Staunton helped change Staunton to what it is today, so we need to be respectful of that history," says councilwoman Andrea Oakes. "Opening [Montgomery Hall Pool] to me is the first step."5
Today, people of all ages, genders, sexual orientations, and ethnicities freely enjoy both Gypsy Hill Park Pool and Montgomery Hall Pool – after an entrance fee, of course. Regardless of skin color, Staunton residents now intermingle as equals, a testament to the resiliency of the black community and their hard-fought social victories. Gypsy Hill Park, once the privileged playground of the elite, currently represents inclusiveness, a restful spot loved by all within a city that feels the same love for its inhabitants. Thanks to brilliant local activists like Rita Wilson and Ophie Kier, the laughter of both black and white children bubbles from beneath the sprinklers of Gypsy Hill Park Pool.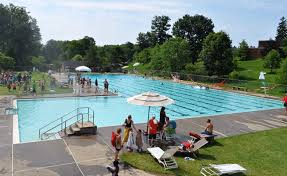 Now, a true community hub at Gypsy Hill Park8
If you would like more information about hours of operation or other beautiful Staunton attractions, visit https://www.ci.staunton.va.us/departments/parks-recreation.
Sources